"

"For those who love the sound of the cello, what could be better than one cello...four!" " - Lois Reitzes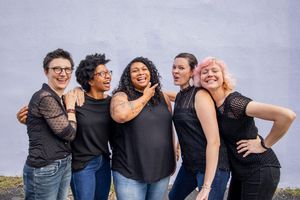 Upcoming Shows
Previous events
Atlanta Celli is finally back in person!
$4 Advance Tickets $6 Walk-up Tickets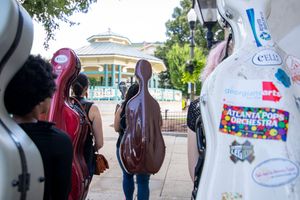 Previous events
We revisit Phoenix Rising with the Atlanta Celli. The COVID-19 pandemic has changed daily life from what we know it. No school, no work, no time with friends…and shined a spotlight on society's many inequities. The Celli navigate this emotional journey with their signature mashups of classical and popular music. From anger to hope, from Beethoven to Ozzy Osbourne, this is a musical ride the audience will not want to miss.
Live and pre-recorded content.
With special guest Sarah Kapps.
Join us for an evening of beautiful and stirring music made by the lush interplay that only four cellos can create. We're excited to feature the world premiere of Phoenix Rising, composed by Nan Kemberling and narrated by Roger Moss. Be the first to hear this incredible piece!
In-person-audience socially distanced seating is limited to 70 guests, so purchase your ticket today to secure your seat! Out of respect for the health and safety of our Musicians, masks and temperature screenings will be required upon entry. Hand sanitation stations will be present throughout the venue.
We're excited to announce that our virtual concert livestream is now available to all! You'll have the opportunity to chat with Savannah Philharmonic Cellist Ismail Akbar while you watch this spectacular performance. Just click the TICKETS link below on October 29 at 7:30 pm to enjoy the performance from the comfort of your home.
In-person tickets: $85; Streaming free: https://vimeo.com/465401788/d0023a3ad3
Previous events
Porter Auditorium, 140 Ram Drive, Covington, Georgia
Come catch many of Celli's signature mashups like the Bach & Prince mashup, "Rasberry Bourree" and Schubert & Leonard Cohen mashup, "Maria's Secret Chord"
 —  —
Edgemere Sackville , Savannah, Ga
This free event is open to the the public and is going to be an amazing event!!
Come enjoy great music, have money handy for food trucks, and come say HI to us!!!
Sensational cello quartet, Celli – a quartet of astonishing female cellists from the Savannah Philharmonic – return to our chamber series by popular demand! From Renaissance works to modern popular charts, Celli writes and performs custom arrangements that make for a thrilling evening of energy and excitement, combining tunes in ways you've never heard before!
Open to the public as a free performance by the support of the "Friends of Music at Peachtree"
Educational performance at Spivey Hall
Free event for the community of Savannah, Ga.
Celli Performance featuring classical, mash-ups, and other pieces to showcase the diversity of the cello.
Celli performing for AWARE'S Event
Music Event for students of Tennessee Tech University
FREE performance held in the Nave followed by a Meet-the-Artist reception in the Bishop Commons
VIDEO LINK: https://m.facebook.com/story.php?story_fbid=2169445526429232&id=725618527478613&notif_t=page_post_reaction&notif_id=1526739282738533&ref=m_notif
Click on "GET TICKETS" to be routed to AWARE's Donation Page to place your donation.
Donation Incentives:
$2000 Hamilton Sponsor -2 Orchestra Level Tickets at the FOX to Hamilton (if Hamilton tickets are claimed your donation becomes the "Platinum Sponsor" incentives)
$1000 Platinum Sponsor -All benefits below plus time at the AWARE Center with an AWARE ambassador
$500 Gold Sponsor -All benefits below plus join Celli. Be in attendance at the Cellithon recording area.
$250 Silver Sponsor -All benefits below plus your choice of a painting, AWARE Skilli T-shirt by BlackCattTips or Celli T-shirt designed by Nan Kemberling
$100 Bronse Sponsor -All benefits below plus a one-song request to be played during Cellithon
$50 Purple Sponsor -All benefits below plus an AWARE lapel pin
$25 Blue Sponsor -A Celli Sticker